Start Supporting Your Furry Friend's Health With Pet Vitamins and Supplements
Just like us, pets benefit from taking vitamins and supplements to promote their overall health and wellness. Some pet vitamins and supplements are taken frequently to support their system while others help specific conditions such as soft stool or joint pain. Animalia NOHO is here to help you strengthen your pet's overall wellness through all-natural vitamins and supplements. Our healthy pet products are organic and effective, without any of the additives or fillers you often find in other pet products. Learn more about our all-natural pet vitamins and supplements, and help your pet live a healthier, happier life by ordering today!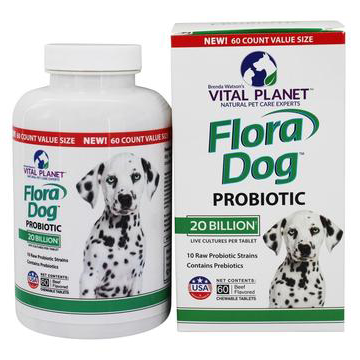 Flora Dog Probiotic From Vital Planet
Vital Planet Flora Dog 20 Billion Raw Daily Probiotic has live probiotic cultures from 10 unique strains support immunity and good digestion. It is complete support for immunity and digestion. Convenient Probiotic Powder for All Dogs Their advanced care probiotic has been repeatedly tested for palatability in veterinarian clinics to ensure a high level acceptance from all breeds. Feed one scoop daily. May be mixed with your dogs food. 20 Billion Live Cultures Contains 20 Billion live probiotic cultures in each scoop to help maintain your dog's immunity. When comparing probiotic options for your companion be sure to look closely at the number of live cultures in each serving. 10 Unique Strains Your dog has many unique probiotic strains in their digestive tract. Flora Dog 20 Billion combines 10 specific probiotic strains to more closely match your dog's digestive system and to provide maximum diversity. Powered By Prebiotics Prebiotics boost natural gut bacteria and help support healthy bacterial growth in the digestive tract. Shop the Vital Planet collection now!
SHOP NOW
I Want Liquid Immunity From Natura Petz
I Want Liquid Immunity contains vitamins, minerals, antioxidants, amino acids including serine, valine and leucine, disease fighting oligomeric proanthocyanidins, (OPCs), antioxidants, flavonoids and glycoproteins, Vitamins A, B1, B2, B3, C, selenium, calcium, thiamin, potassium, phosphorous, iron, protein, mixed carotenoids (including lutein, astaxanthin and zeaxanthin); glucose, co-factor enzymes and terpenes alpha-pinene and d-limonene, which combine naturally and synergistically to ensure maximum utilization and absorption in the animal body. I Want Liquid Immunity is used holistically to help support healthy immune function; may help address colds and flu in dogs and cats; may help address bacterial and viral infections due to its strongly antioxidant, primary anti-mutagenic, anti-viral, anti-bacterial and anti-septic natural plant chemicals; and may help correct abnormal cell growth and standardize normal cell operation; may help reduce catabolic waste; may help protect your pet's DNA from cellular mutations; may help promote T cell and macrophage response; may help swelling caused by injury, allergenic response and damage to smooth muscles and connective tissues in esophagus and stomach tissue lining. What is a primary anti-mutagenic? Anti-mutagenics perform a variety of cell supportive actions in the body. First, they work to help reset cellular health when healthy cells have been compromised and replaced by unhealthy cells. Anti-mutagenics function like cellular gate keepers to allow good cells to proliferate while restricting bad cells. An anti-mutagenic also works to break down irregular tissues in the body related to cell irregularity such as lipomas, fatty tumors, cysts and warts. May help support metabolic co-regulation and may help rid the animal body of toxins as well as to help support systematic strength and health of organs, bone, muscle, cell, skin and connective tissue, included eye disease related to diabetes, particularly useful for senior, geriatric and immune compromised dogs & cats.
SHOP NOW

Help Your Furry Friend Live a Healthier, Happier Life!
Pet vitamins and supplements are a great way to support your pet's overall wellness and treat specific or chronic conditions. Find your all-natural vitamins and supplements today!