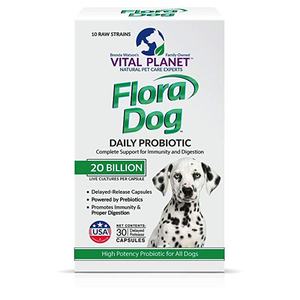 Vital Planet: Flora Dog 20 Billion Raw Daily Probiotic (30 Scoops)
Regular price $30.99 Sale
Vital Planet Flora Dog 20 Billion Raw Daily Probiotic has live probiotic cultures from 10 unique strains support immunity and good digestion. It is complete support for immunity and digestion.
Convenient Probiotic Powder for All Dogs
Their advanced care probiotic has been repeatedly tested for palatability in veterinarian clinics to ensure a high level acceptance from all breeds. Feed one scoop daily. May be mixed with your dogs food. 
20 Billion Live Cultures
Contains 20 Billion live probiotic cultures in each scoop to help maintain your dog's immunity. When comparing probiotic options for your companion be sure to look closely at the number of live cultures in each serving.
10 Unique Strains
Your dog has many unique probiotic strains in their digestive tract. Flora Dog 20 Billion combines 10 specific probiotic strains to more closely match your dog's digestive system and to provide maximum diversity.
Powered By Prebiotics
Prebiotics boost natural gut bacteria and help support healthy bacterial growth in the digestive tract.