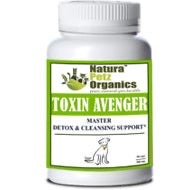 Toxin Avenger
Regular price $35.99 Sale
Detoxify your doggo's system with Natura Petz Organics Toxin Avenger Dog Supplement. Power-packed with a blend of holistic and organic ingredients, this multi-tasking supplement is designed to avenge a variety of irritating and harmful issues your pooch may suffering from. Formulated to offer a deep level of liver and kidney cleansing, this special supplement can also assist with healthy gut flora and waste elimination, so your canine comrade can say adios to tummy troubles, parasites and even bad breath.
Key Benefits
Formulated to support your pooch's healthy gut flora and improve doggy breath.
Holistically addresses parasitic infestations including ringworm, roundworm, hookworm, whip worm and tapeworm.
May help relieve scooting in pets related to allergies and inflammation in the intestinal tract and gut.
Designed to help remove inorganic compounds and fillers found in low-quality foods that can accumulate in your dog's body.
Designed to cleanse your doggo's body from toxins.