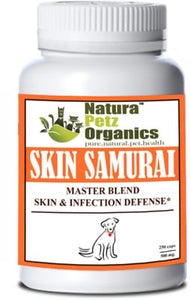 Skin Samurai
Regular price $34.99 Sale
Soothe your doggo's skin like an all-natural ninja with Natura Petz Organics Skin Samurai Dog Supplement. This multi-tasking supplement is designed to help address painful issues related to skin conditions such as dermatitis, skin allergies, rashes, eczema and psoriasis. It's also formulated to provide relief for itching, discomfort, swelling and redness associated with wasp, mosquito, and bee stings, so your doggy feels better in a jiffy.

Key Benefits
Designed to offer your sidekick relief from dermatitis, eczema and psoriatic skin conditions.
May also help regulate your pooch's immune system.
Formulated to help stimulate collagen production, a necessity for skin and coat health.
May help promote proper lymph production and metabolic processes.
Designed to holistically relieve irritating allergy symptoms.
SKIN SAMURAI is used to help address conditional needs related to idiopathic (unknown) skin disorders as well as known conditions such as general dermatitis, atopic, allergic and contact dermatitis, skin allergies, rash, boils, internal ulcers, acne, external skin ulcerations, abscess, lesions, alopecia, abrasions, eczema, psoriasis, allergenic plant reactions and vitiligo; for itching, pain, discomfort, swelling and redness associated with wasp, mosquito, ant and bee bites; as a cellular and nerve protector; as a skin emollient and humectant; as a blood cleanser; as a topical pain reliever; general tonic (tones, balances, strengthens) for balancing, energizing, rejuvenating and muscle growth) and to help support balanced immune response.